To see how Adaptrack's platform seamlessly helps today's busy clinician avoid costly clinical, administrative & personal risks:

CLICK HERE
+++
➡️ Are you a Medical Doctor, Nurse Practitioner, Physician Assistant or Anesthesiologist Assistant listening to this podcast? Unlock Category 1 Continuing Medical Education (CME) credit: CLICK HERE
➡️Are you a clinician leader looking to spark a CMEified co-learning event based on an episode on this podcast? Get started here (just tell us Mike sent you): CLICK HERE
Providing patient care while meeting the constant requirements of non-clinical tasks can be overwhelming. This stress produces blindspots throughout the day that leave today's clinicians and their practices exposed and vulnerable to burnout, reputational and malpractice risk.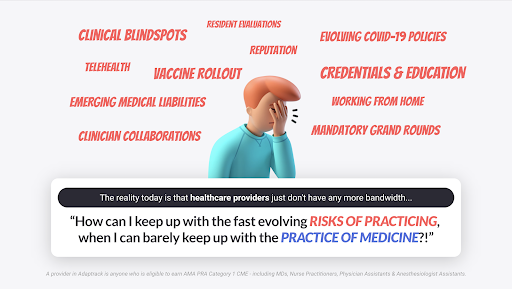 Adaptrack's platform is designed to help the busy clinician get ahead of day-to-day blindspots with our AI-powered nudges – personalized 30-second insights that meet busy clinicians where they are, unlock impactful habits while unlocking AMA PRA Category 1 Credit™, medical liability discounts & more.
Tracking costly blindspots.
Built by rigorously analyzing over 15 years of burnout, claim and performance data, Adaptrack's library of nudges are designed to track upstream clinical, administrative and personal blindspots before they become costly downstream risks and liabilities. Adaptrack leverages turnkey personalization from the clinician's National Provider Identifier, to over 3,000 work + life apps that may be securely "listened to" and mapped to potential blindspots!
Learning from your day-to-day.
Clinicians are lifelong learners. And, especially today, clinicians are learning ubiquitously – weaving in insights at work, from podcasts, in conversations,and more. At Adaptrack, we are dedicated to meeting clinicians and their practice teams where they are – including grand rounds, at work via Olive Helps, learning on Clubhouse, listening to amazing podcasts like Passionate Pioneers with Mike Biselli and even during moments like meditation or a walk in nature, while you personally recharge. Simply invite Adaptrack, and our engine will seamlessly CMEify the learning experience for you. Plus, your Adaptrack profile stays with you to help you build your learning from one experience to the next, while tracking CME & risk insights.
Earning rewards for avoiding risks.
Founded on the principles of applied behavioral economics, Adaptrack rewards clinicians' attention with AMA PRA Category 1 CreditsTM and personalized insights that unlock medical liability discounts.
Clinicians win. Practices win. Hospitals and health systems win.
Adaptrack's ridiculously simple platform helps clinicians learn 30x faster, while providing 5x cheaper CME. Adaptrack helps users meet their licensure requirements in a life-friendly way, while putting money back into their wallets.
For practice groups, hospitals & health systems, the advantage is clear. Adaptrack is the nudge your balance sheet needs: 
Chief Medical Officers love how we help them boost provider satisfaction, drive

18% more effective

continuing education & unlock balance

more efficiently

.

Chief Executive Officers and Chief Financial Officers value the value & ROI Adaptrack drives with:

our focus on avoiding today's risks, ability to reduce liability spend through malpractice premium discounts or claims avoidance within their captive.

a 5x lower provider education spend (without taking away the benefits your clinicians enjoy).

the turnkey ability to boost their HR playbook (increase engagement, provider satisfaction & talent acquisition) using Adaptrack's

CMEified

co-learning features for clinicians.

rapidly building a risk management program without the costly overheads of risk consulting, IT investment, accreditation costs and content upkeep.
For clinicians. By clinicians.
Clinicians are the architects of our healthcare future. At Adaptrack, we believe in fostering clinician-led co-learning – both scheduled and spontaneous. Clinicians on Adaptrack can spark CME-enabled conversations, micro grand rounds™ & co-learning experiences with their colleagues, students and mentors instantaneously. Let's capture learning where it's already happening. By clinicians. For clinicians.  
How can you get involved?
🩺 Physicians, Physician Assistants, Anesthesiology Assistants and Nurse Practitioners in the US, Canada, UK & EU (ACCME): CLICK HERE to get started for free and start tracking experiences you're already giving your attention to – like "me time," Clubhouse chats, mindfulness events, grand rounds, curbside consults & more.
📣 Clinician leaders, learning catalysts & mentors: CLICK HERE to bring Adaptrack into your learning environment (podcasts, niche events, Zoom rooms, Clubhouse talks & more) and CMEify meaningful knowledge exchange for your learners.
🏥 Practice groups, specialties, hospitals & health systems: CLICK HERE to see how we can help you seamlessly re-engineer your provider engagement, satisfaction & education playbook for today's busy clinician, while driving a 5x plus ROI with Adaptrack. 
📝 Insurance carriers & underwriters: CLICK HERE to partner as we redefine a provider-friendly risk management experience while partnering on continuing medical education that helps avoid clinical, administrative & personal risks. 
Adaptrack is a Delaware Public Benefit Corporation. Our mission is to help providers + their teams work + live better. Visit us on adaptrack.com, follow us on Twitter, join our clubs in Clubhouse: CME Club and Practice Blindspots Club.
+++
Interested in being a Community Champion sponsor: CLICK HERE